Come enjoy the magic of the U.S. and British Virgin Islands aboard a luxury yacht.  It's no wonder the VI is ranked as the top cruising destination in the world!  Blessed with sheltered waters, steady winds, quaint towns, casual beachside bars, amazing snorkeling and dive sites, and miles of white sandy beaches, you are sure to have an unforgettable adventure …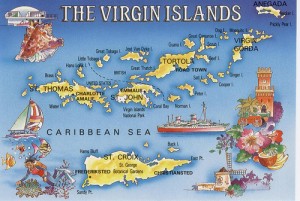 The Virgin Islands are a melting pot of three nationalities:  The U.S. Virgin Islands (St. Thomas, St. John, St. Croix and Water Island and 50 smaller islands), The British Virgin Islands (Tortola, Virgin Gorda, Anagada and 32 small islands), and the Spanish Virgin Islands (Vieques and Culebra which are part of Puerto Rico).  What makes these islands such a sailing gem is that they all lie within approximately 60 square miles of sheltered waters.
There are two kinds of Yacht Charters: Bareboat and Crewed.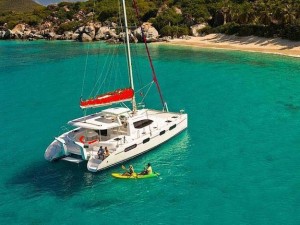 With Bareboat Charters, depending on your boating experience, you may be able to charter and captain the boat yourselves, or you can simply hire a captain.  You will need to handle all of your provisioning and meals.   Sizes of vessels usually range from 36′ to 48′ and  weekly rates begin at $3,000 for the week,  and escalate on up to $10,000+ for some of the larger vessels.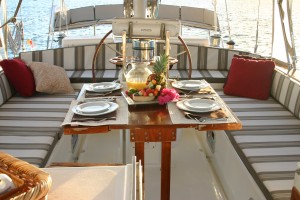 Crewed Charters are the ultimate in luxury.  Your yacht will come with a captain, chef, and additional crew depending on the size of your vessel.  Sophisticated, gourmet meals are prepared, based on your preferences, and all meals and beverages are included in the price of the charter.  Weekly rates start in the $5,000 range for a 2 passenger charter, on up to $15,000+ for some of the larger 65'+ yachts, which can accommodate groups of 8 or more.
Our DreamBookings.com website is currently under construction, but in the meantime, please check out a few of our favorite yachts below.  There are MANY other options available, and we look forward to helping you find the perfect match.  Please call me at 340.344.4940 to get started planning your dream vacation!
Our Favorite Yachts & Crew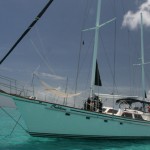 Sublime:  A 72′ Irwin monohaul with 4 cabins and 4 baths.  Captain Brian Johnson and his wife, Stephanie, offer exceptionally friendly and professional service, with delicious gourmet meals.  Their love of chartering shows in all the details they provide to each charter. Their goal is to make every charter….Sublime. Book early, because this yacht is very popular!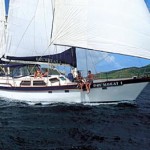 Drumbeat:  Also a 72′ Irwin monohaul with 4 cabins and 4 baths.  Owners, Vince and Linda Stracener have been sailing the waters of the VI since 1993.  Whether or not your desire is to kick up your heels, dive till you drop, or just relax at a secluded palm lined beach, Vince and Linda will make all your dreams come true.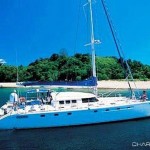 Victoria:  A classy 56′ Catamaran, with 3 bedrooms and 3 baths.  Wayne and Barb Elsworth have been chartering together in the VI for 25 years.  Whether you want to relax in the sun with a book and a pina colada or explore the heights and depths of the Caribbean, they take pride in making your vacation one you will remember forever. "We love showing our guests our playground. "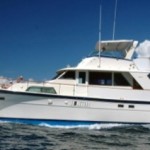 McGregor 2:  A gorgeous 58′ Hatteras Motor Yacht, with 3 cabins and 3 baths. Captain Tim Miller has been sailing the VI since 1986, and his easy going manner and extensive knowledge of the islands ensures your vacation will be one not soon forgotten.  Chef Julie specializes in the elegant balance of nutritional foods and fine wines. Her cuisine features fresh fish, tropical fruits and vegetables and mouth-watering desserts, which usually win top awards at our annual boat show.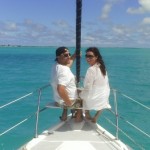 Spirit:  This is a smaller vessel, a 46′ Hunter monohaul, that accommodates couples only (or couples with small kids).  Tim and Angela come from diverse backgrounds, making for interesting and lively conversation during your time aboard.  Angela says "It's truly a great pleasure to see the joy and wonder on the faces of our guests as they participate in sailing Spirit through these beautiful waters."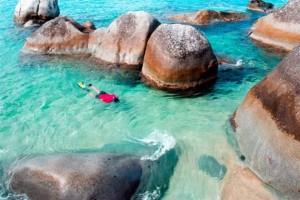 For more information on visiting the British and US Virgin Islands, please visit: